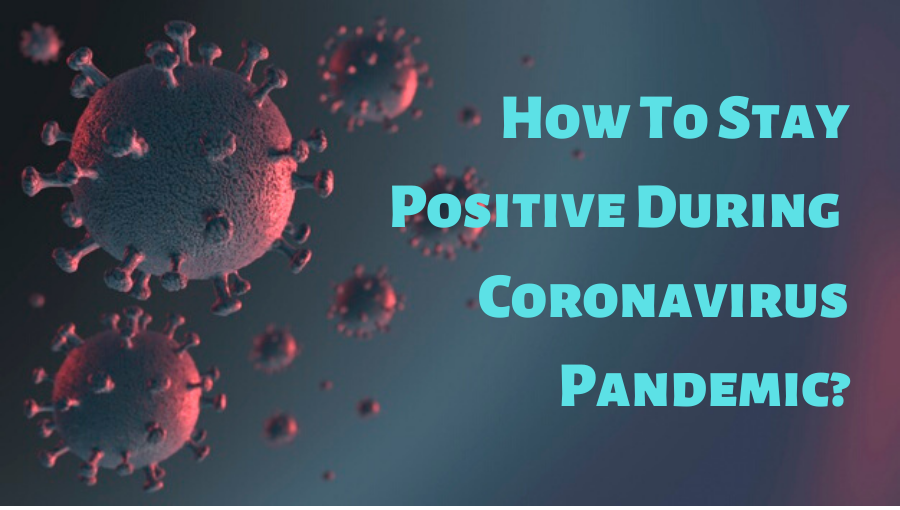 I cannot deny the fact that Covid-19 (Coronavirus Crisis) has changed our life so badly. Where students are enjoying their free time from schools and college, our families are facing burdens both financially and health-wise. Limited grocery shopping, no fresh air, no hangouts with friends and families has made us a little irritated and confused. But we can't help it out as family's health is on top of all.
But after a few days of irritated and getting mad on everything, I have started finding some positivity in everything happening around me. Believe me, I have started appreciating the circumstances just by staying positive all the time. And seriously I want all of you to do the same thing….STAY POSITIVE.
I bet you might be thinking about how badly you are affected by the situation but just think about others' situations, how badly they are being affected. You will much better. Yes, we all tensed about our family's wellbeing but for those who think their world has just fallen apart, let me tell you that you are not alone who is facing this crisis and there are people who are losing more than you. At least you have a home where you can make yourself safe.
Staying positive is an art and it comes when you practice it. I am telling you a few ways that will help you stay positive during this coronavirus crisis.
Live The Small Moments With Family
After you stated higher studies or got a job, how many time you get with your family chatted for a whole day. No, never. But you know this is time you can experience it without any work pressure. Chit chat with family, go and cook with your mother or wife. Play with your little siblings. All these activities seem small but believe me, it will transmit a positive vibe in your body.
Give Time To Your Body
Daly rush to work has made yourself ignore loving your body. Please these few days take good care of your body. Make it beautiful outside and inside. Get into some healthy diets and exercise and it will eventually turn into a daily habit for a lifetime.
Take Care Of Your Immunity
This is the most important task that you should not only do during these days but also for the lifetime. It is scientifically proven that those who have stronger immunity can fight back the virus easily and won against it. Immunity brings positive emotions in you and it will, however, result in helping the respiratory illness.
Give Your Passion Some Time
To release the tension the best advice is to get into things that you are passionate for. You can do anything that you love, it might be singing, dancing, painting, writing, cooking, anything but something that you find interesting.  It will hold you back from the negativity this virus has been bringing for you.
Pray For Everyone
You know why prayers were made in ancient times, not just to complain about what you not have but to thank god for what you have and to give the needy what they deserve. You should pray for those who are infected and fight against the virus. Pray for their speedy recovery.
Help The Needy
If you have enough to help others financially, please don't stay back. Come ahead as those who are needy and not having any kind of earing to get their livelihood. Help those with a hungry stomach, feed them with generosity. These acts of kindness will surely help you get some positive vibes instantly.
Let me tell you a fact, in coming year there is no doubt that you are gonna see coronavirus as a chapter in books. Textbooks will surely be covering covid -19 as a history. But what do you want? Textbooks should mention it as the worst challenge that was not won by the society or an event when the complete society can together and overcome it. The answer is in your hand now.
Every dark cloud has a silver lining, all you have to do is to find out that silver lining and wait for the beautiful sunrise.
So my friends!
Stay positive, stay calm, stay healthy and the most important… STAY HOME…
Thanks for reading.
---